In the early 1900's, Edwin Thatcher Wolverton, a mining engineer from Maine, came to southern Utah to look for gold in the Henry Mountains. Believing he had discovered the location of a legendary Old Spanish Gold Mine, Wolverton tried for nearly 12 frustrating years to file mining claims around Straight Creek on Mt. Pennell only to find each time that others had filed before him. He waited until the others gave up and, about 1915, was finally able to establish his own claims. With the help of his two sons, Norville and Thatcher, the sixty-year-old Wolverton began construction of a mill to crush gold ore about 1921. Knowing that he would need wood for the mine as well as some way of keeping in supplies, Wolverton built a large table saw in one end of his mill. With this, he could cut lumber for his needs as well as those of many of his remotely located neighbors, thereby obtaining supplies and bartered services. This feature made the Wolverton Mill unique because it combined both wood cutting and ore crushing operations under one roof. Besides being unique in function, the Wolverton Mill was also unique in construction. Most log structures of the time made use of some form of log notching and overlapping to tie the walls together. Wolverton cut his logs off evenly, stacked them, and used steel spikes inserted vertically through the ends of the logs to build the mill walls. The walls were built in sections and braced with heavy posts. There were no other mills in the Southwest like this one.
Gold ore was run through the mill for only a short time. It is unlikely that Wolverton ever found his lost mine, but, once in a while, he would show up in town with a little gold. Irregardless of whether Wolverton's dreams were realized, his mill stands as a unique monument to mining, perseverance, and genius. In 1929, E. T. Wolverton died at the age of 67. His grave in the Elgin cemetery near Green River, Utah, is marked by a granite arrastra drag stone his sons brought from the Henry Mountain mill.
When the mill still stood on Mt. Pennell, it was subjected to vandalism and was the source of a variety of problems. Because of this, the Bureau of Land Management moved the mill to its present location in Hanksville during the summer of 1974. Restoration of the mill was completed in 1988.
Self-Guided Tour
The order in which the various mill components are discussed below does not correspond to the order in which you will observe them as you move through the mill. This writeup follows the flow of energy from the wheel to the other workings in the mill, the order in which they were built, and their place in the ore-crushing process. Figure 1 shows a general view from above and identifies the mill's different components.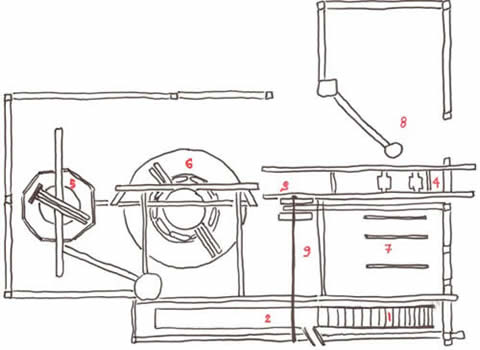 Figure 1. General Layout of Wolverton's Mill: (1) waterwheel; (2) water control system; (3) pulleys; (4) pulley; (5) primary ore crusher; (6) arrastra; (7) lathe; (8) workshop; and (9) ladders.